20th Aniversary Footprints of Heart Saving Project's Activity PART.2
2/10/2022
Twenty years has passed since Dr. Noriyuki Haneda, Dr. Kenji Kuroe, and Mr. Hiroshi Yano visited Mongolia for the first time to treat pediatric cardiovascular patients on October 3rd, 2001. To commemorate this, on October 3, 2021, the "20th Anniversary Online Event" was held, and Dr. Noriyuki Haneda gave a commemorative lecture. Let us introduce this lecture in three parts.
In the second installment, we will introduce the treatment activities in Mongolia from the second visit in 2002 to 2009.

Visit in 2002
In the 2nd visit at August 2002, the patient, who recovered from severe heart failure following PDA closure at the 1st visit, invited us to his Ger, where I received a horse from him. I do not know how these horses are, now.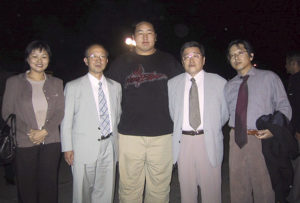 We, Dr Enkhem, Dr Kuroe, Dr Nogi, amd myself attended the party at the Bayangol hotel to celebrate promotion to Ozeki rank of Sumo wrestler Asashoryu, who became 68th Yokozuna later, and to Juryo rank of Asasekiryu, who became the Takasago master later.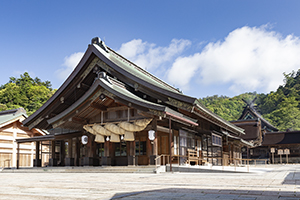 This is the Izumo Taisha Shrine, which is the famous and one of the oldest shinto shrine in JAPAN with a history since 700 AD. This is 10km from my clinic and 900km from Tokyo. Izumo Taisha donated 4 million JPY to our activity in 2002, while up to now, further donated more than ten millions JPY in total.  This donation supported our activity at the early stage.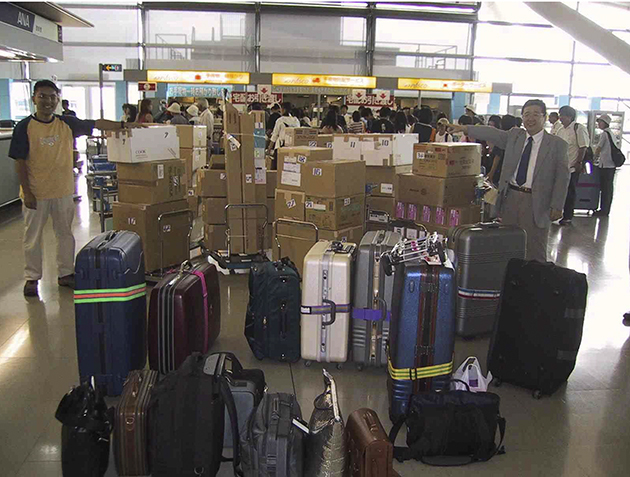 Dr Kuroe and Dr Higaki at the Kansai airport carrying medical devices in October 2002. This is the first visit for Dr Higaki.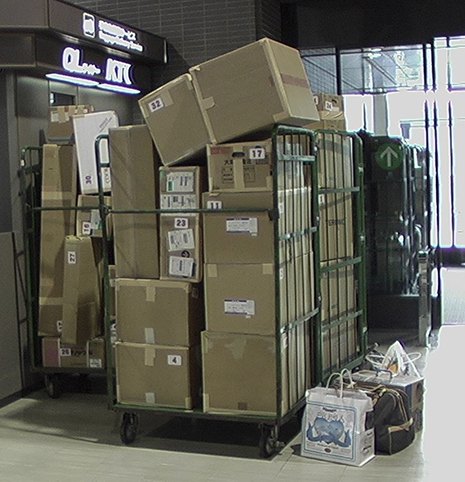 In the 3rd visit at December 2002, we carried the most number of devices and medications with us. This picture shows such luggage.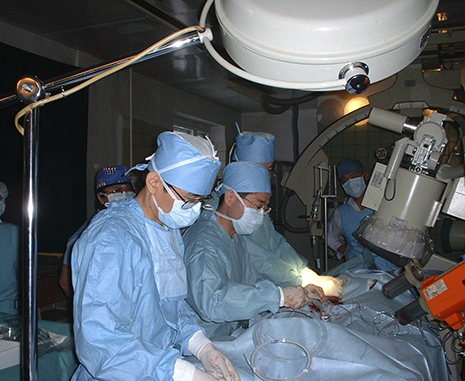 We started catheterization at the Third hospital, which had relatively modern cath lab and has been the center for surgery in Mongolia, from the latter half of this visit. Dr Tomita and Kishida joined us from this visit.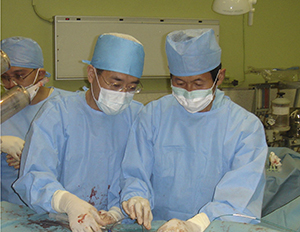 Professor Baasanjab contributed much to move from the NCMCH to the third hospital. Dr Tomita taught him catheterization.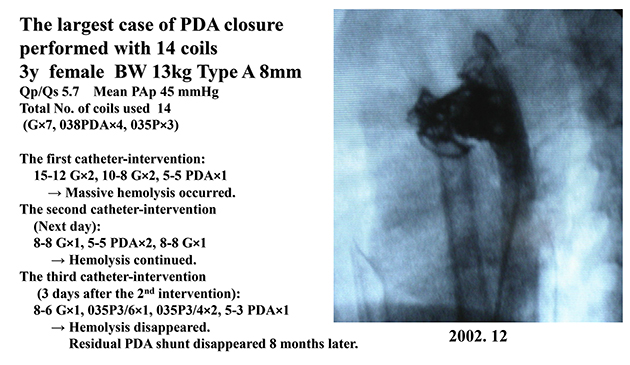 This picture shows a case of big PDA with a diameter of 8mm, which was finally closed using 14 coils in 3 sessions in this visit. I believe this is the largest one which can be closed with coils. We reported this case in the international conference.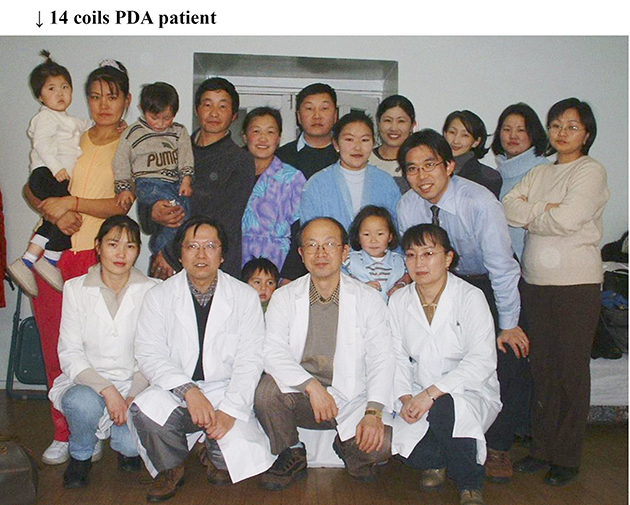 The arrow indicates this case just before discharge, when she had become very active.
Started local examination in 2003
From October 2003, we started the screening for childhood heart diseases in countryside. Dr Kishida performed echo exam using a portable echo machine, at the Baganol hospital.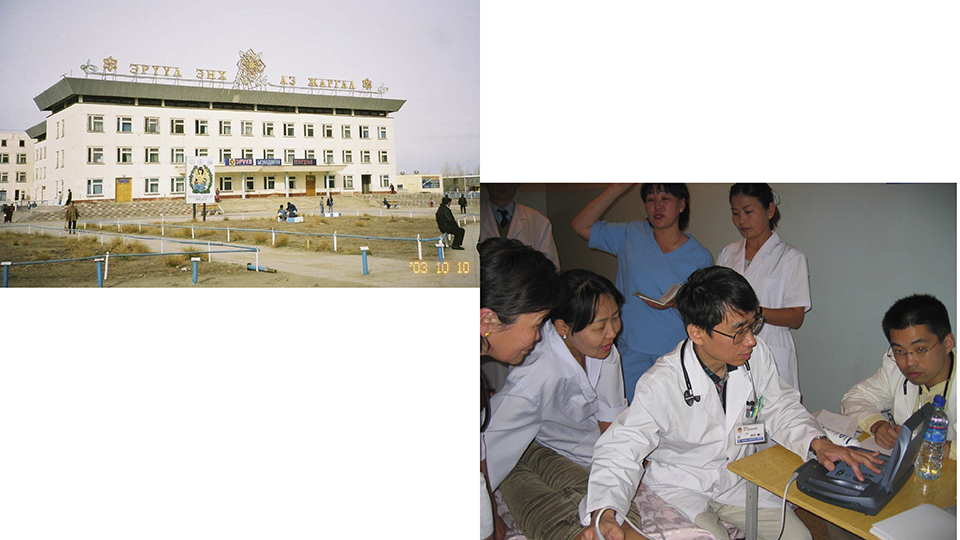 In July 2004, we visited in the Naadam season. Pictures show Naadam parade, Mongolian Wrestling, Horse race in the steppes, and its participants.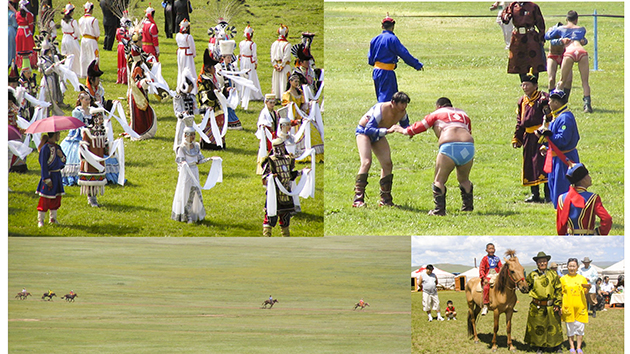 Pictures show Dr Kasuga's Orphanage named Temjin private school, where we visited at that time. A group phot shows Dr Kasuga, Tomita, Nogi, Ms Masukawa, myself and my son with orphans. As Dr Kasuga managed this Orphanage by his private funds, we donated something until 2007.

New cath lab at the third hospital in July 2004, where we worked until 2014. Drs Nogi, Tomita, and myself were doing catheterization.
Type A, 3.5mm PDA of 1year and 5 months girl with a body weight of 9.5kg, which was closed with 3 coils at that time.

We first used Amplatzer Duct occluder (ADO) to close PDA at the visit in the end of July to early August, 2005.  Dr Larry Meng from China was our proctor on this procedure. A group photo with him.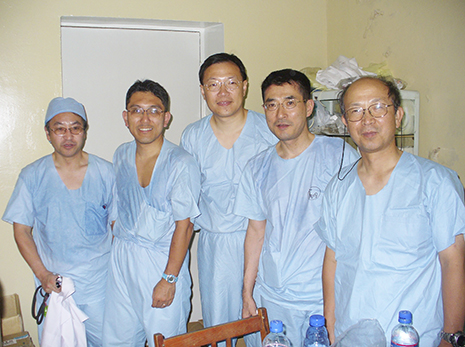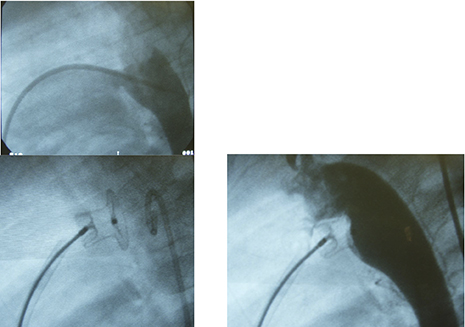 PDA closure using ADO at that time.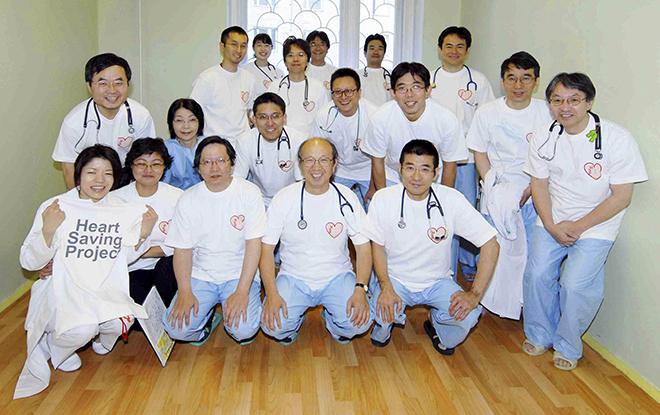 A group photo wearing T-shirt with a logo mark of HSP on, which we made for the visit in 2006.
From 2001-2007, our Secretariat had been at the Shimane Institute of Health Science Center, Izumo city, while we visited Mongolia normally once a year except in 2002 when we did twice. During this period we stayed at different apartments of Enkhe's family.
In 2008, we visited twice, 3 days in July and 2 weeks in August, to arrange multiple visits with multiple teams from the next year. From 2009, we have stayed Bayangol Hotel, which made our stay in Mongolia much comfortable. From this year, the team for cath at the hospital in ULN, and the other team for screening of childhood heart diseases in countryside have visited twice a year, respectively.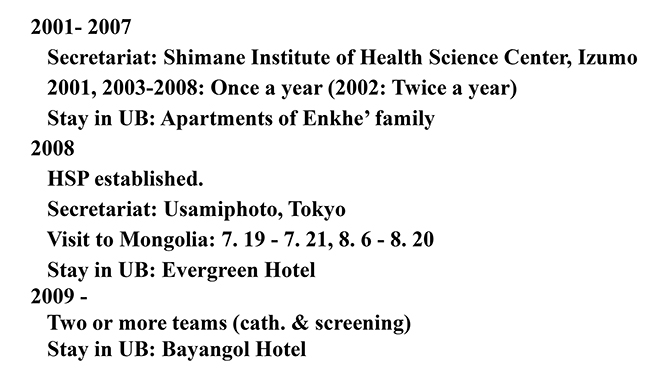 Continue to PART.3(final) of 20th Aniversary Footprints of Heart Saving Project's Activity