August 2023 Mongolian catheter treatment support activity report
9/1/2023
Overview
Date:
August 10th (Thursday) Meet at Narita Airport, Fright OM502 departed from Narita at 14:40 and arrived in Ulaanbaatar at 19:15
August 11th (Friday) Activity at the National Maternal and Child Health Center of Mongolia(Prof.Tomita arriving at UB)
August 12th(Saturday) same as 11th
August 13th(Sunday) (partial return to Japan)
August 14th (Monday) Flight OM501 departed from Ulaanbaatar at 7:45 and arrived at Narita at 13:40. Disbanded at the airport.
Hotel: Bayangol Hotel inUlaanbaatar Mongolia)
Results: Number of echocardiograms: 66 people
Number of catheters: 14
Breakdown: 12 therapeutic catheters (PDA4, ASD4, PS4), 2 diagnostic catheters
Transesophageal echo lecture (Dr. Hidemi Takada) and operation guidance (Dr. Hirosuke Kise)
Detail
On the first day, echocardiographic examination were mainly performed, and catheter treatment was performed in two cases. During catheter treatment, Dr. Kise instructed two Mongolian doctors on how to operate the catheter.
On the second day, Dr. Takada gave a lecture on transesophageal echocardiography, and then Dr. Kise gave instructions on how to use it. Two of the first-year cardiovascular doctors who attended the course were very interested in transesophageal echocardiography, and we had high expectations for their future growth. Prof. Tomita provided instruction regarding catheterization at the same time as treatment. At first, the instructions were explained in detail, and then in the middle, Prof. Tomita placed his hand on the Mongolian doctor's hand to provide operational guidance. This method seems to have given him a pretty good idea of ​​how it works. The treatment itself was often very severe, and the schedule for that day ended just before the new date. There were 8 catheter cases on this day.
The third day consisted of 4 catheter cases and rounds.
During this trip, Prof. Tomita spoke with four new members of the Department of Pediatric Cardiology at the National Maternal and Child Health Center of Mongolia (who had joined over the last three years), and talked with them about their hopes for the future. Until three years ago, there were many doctors who did not understand English, but the four new doctors who have joined the Department of Pediatric Cardiology all speak English, so it is easier to communicate with them, and we are hopeful that this will speed up future guidance.
Regarding catheters, it seems necessary to continue teaching the basics about the areas for which we did not have enough time this time.
Private hospitals are leading the way in terms of technology among children's hospitals in Ulaanbaatar. In addition, even public hospitals that treat adults are expanding their treatment areas to include children. In the future, if hospitals in Mongolia were able to collaborate with each other, it would be highly expected that technology would improve in a short period of time, but it seems that this will not happen easily due to the country's characteristics.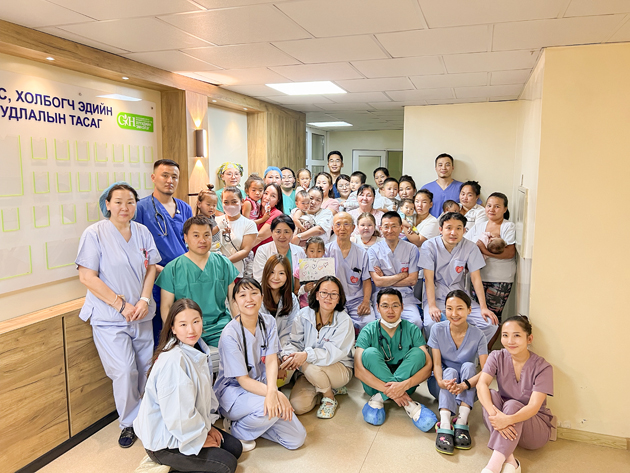 Members of August Team:
Prof.Hideshi Tomita (Showa University Hospital)
Dr.Noriyuki Haneda (Doremi Clinic)
Dr.Hiroaki Kise (Showa University Hospital)
Dr.Hidemi Takada (Ehime University Hospital)
Dr.Natsumi Kikuchi (University of Yamanashi Hospital)
B.Altantuya (Secretariat)