May 2023 Arkhangai regional medical examination activities
5/20/2023
Finaly resumed activities after 3 years and 2 months
In February 2023, NPO Heart Saving Project conducted a pilot trip to Mongolia for 2 nights and 3 days with Chairman Prof.Hideshi Tomita and 3 other members in preparation for resuming treatment activities in Mongolia for the first time in 3 years and 2 months since December 2019. At the same time as we re-signed a contract with the National Center for Maternal and Child Health of Mongolia to resume our activities, we also researched the local situation. After the pilot travel team returned to Japan, we held several board meetings and made preparations for the start of activities in 2023, including creating guidelines for resuming activities. After that, we invited a wide range of physician members of the Heart Saving Project to participate, and decided on the members who would participate in the 2023 activities.
Leaving in the Spring Holiday
Wednesday, May 3rd, 2023, members of the Mongolian regional medical examination team, Dr. Tomozo Moritani (pediatric cardiologist affiliated with Ehime Prefectural Central Hospital) and Dr. Kumiyo Matsuo (pediatric cardiologist affiliated with Osaka Prefectural Hospital Organization Osaka Women's and Children's Hospital) , Ms.Tomoko Taniguchi, nurse (affiliated with Sapporo Medical University Hospital), Mr.Yuto Yasuda (fifth year student, Shimane University Faculty of Medicine School), and Prof. Takashi Higaki, vice president of the Heart Saving Project and the leader of the catheter treatment team departing on the same day (professor of the Department of Pediatrics, Ehime University School of Medicine), Dr. Naomi Nakagawa (Department of Cardiovascular Pediatrics, Hiroshima City Hiroshima Citizens Hospital), and Dr. Sonoko Fujii (one of the board of Director of the Heart Saving Project and  Assistant Professor of Anesthesiology and Perinatal Medicine, Ehime University School of Medicine) gathered at Narita Airport and took a direct flight with Mongolian Miat Airlines. We departed for Ulaanbaatar at 2:40 p.m. (Anmi Shimizu, a fifth-year medical student at Ehime University, was the only one to leave at 7:00 p.m.). We arrived in Ulaanbaatar at 7:30 pm (Mongolia time, 8:30 pm Japan time), checked into the hotel at 9:00 pm, and then had dinner at the restaurant Casablanca, ending the day.
The Last visit to Arkhangai was 2010
The local health checkup location this time is Arkhangai province. This is a prefecture located near the center of the country, 580 km west of Mongolia's capital Ulaanbaatar. It has a variety of beautiful landscapes, including the Khangai Mountains, forest areas, and plains. It is a highland area with an altitude of 1200 to 3600 meters above sea level, and its nomadic pastoralism is popular. The prefecture's population is 9,300 (2017).
The last time the Heart Saving Project conducted screening activities in this prefecture was from July 18th to 21st, 2010 (arrived in Mongolia on the 17th and returned to Japan on the 22nd). At that time, the road from Ulaanbaatar to Tsetserg, the capital of Arkhangai prefecture, was not as well maintained as it is today, and it took over 8 hours just to get there, on extremely bad roads, and it took 4 days and 3 nights, including overnight stays in the car. On the way back from Arkhangai, we stopped in Khozhirt, Uvurkhangai Province, and conducted screening activities at two locations, conducting medical examinations for 178 people. 
The schedule this time was 1 night and 2 days, with a total of 8 hours of on-site examination time.
More than 8 hours in a car
The means of transportation this time is also a car. There are no domestic flights to Arkhangai, and there are no trains. Although the road conditions were better than last time and the main road had been constructed, It still be planned to travel for 7 hours, so we left Bayangol Hotel 4:30 in the morning to start the examination in the afternoon on the day of departure. We were able to arrange two Land Cruisers with drivers (for a total of 4 people including replacement staff), and a total of 11 people participated, including Ulka and Oyunnar from the local NPO, and Dr. Anuujin from the National Center for Maternal and Child Health of Mongolia. It sometimes snows in Mongolia in May, but unfortunately it snowed heavily on the day of our departure, and the road along the way was muddy, making it difficult to drive fast.
Children's haapy faces, prefectural governor inspection and TV interview
Arkhangai Central Provincial Hospital is located in Tsetserg, the capital of the province. We arrived at the hospital around 11:00 a.m., and after greeting the hospital director, we were attended by Mr. Amartovshin, head of the social policy division of the prefectural government, and then had lunch at the hospital's cafeteria. Mr. Amartuvshin was able to speak Japanese because he had lived in Japan once.
After that, the medical examination began at 1:00 p.m. Along the way, the prefectural governor came to inspect our activities, and a local television crew came to cover the event. The examination on the first day ended at 6:00 p.m.
This time, We brought 90 sets of gifts that Edwards Lifesciences entrusted to us to give to local children and distributed them to Arkhangai children who came for health checkups.
 The children were happy to receive the gift in a beautiful red bag.
Surprised by the clean hotel
The place we stayed in Arkhangai was a hotel called Martin Hotel, which was a neat and clean hotel. We had dinner at this hotel's restaurant (the owner, Mr. Ulziibayar, provided for free of charge).
This time medical examinations for 103 people
The next day, we left the hotel at 8:00 and resumed the medical examination at 8:30. The activity continued until 2pm. In total, 103 people underwent echocardiographic examinations over a two-day period.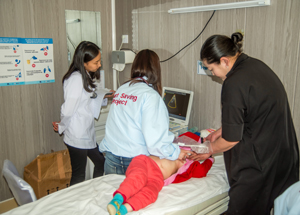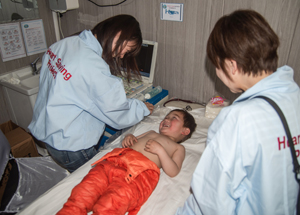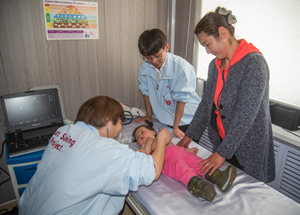 Thank you GE and Doremi Clinic!
This time, after we decided to visit for a medical checkup, we received advance information about the echo machine installed at the local hospital. According to that, although there was a SIEMENS ACSON X300 locally, the only probe available was one that was suitable for adults. Therefore, we borrowed the GE Versana Active 1.5, 6S, and 3Sc probes arranged by Vice Chairman Dr. Takashi Higaki, and the Fukuda Denshi PaoLus+UF76AG and probe FUT-SA162-5P from the hospital belonging to Honorary Chairman Noriyuki Haneda and brought them with our local team from Japan.
In this activity, we conducted a medical examination using these two machines. One team consisted of Dr. Matsuo, Dr. Anuujin (a young doctor in her first year of
pediatric cardiology), and nurse Tomoko Taniguchi, and the other team consisted of Dr. Moritani, Ms. Yasuda, Uruka the interpreter, and Dr. Ganbaa; pediatrician from Arkhangai Prefectual Hospital.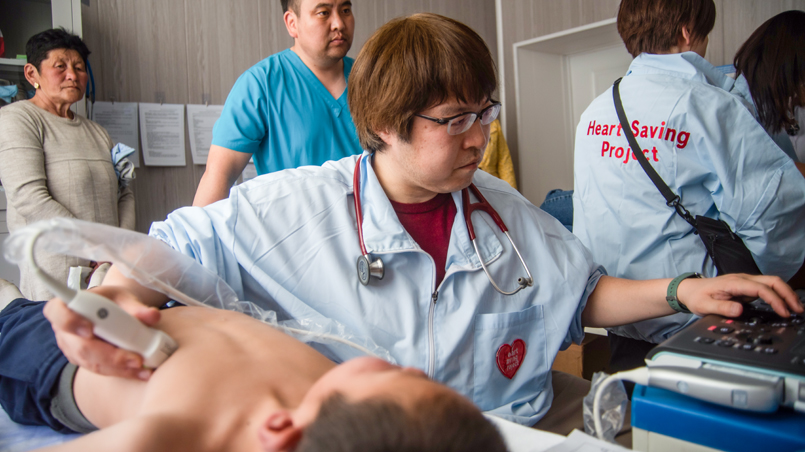 Dr. Matsuo's special training for Dr. Anuujin
On Team Matsuo's side, Dr. Matsuo explains to Dr. Anuujin in English while echoing, and Dr. Anuujin explains it to the family in Mongolian, and Dr. Matsuo exchanges the information she wants to hear from the family through Dr. Anuujin. The process was to do so. Dr. Anuujin seemed to be able to learn about both the ultrasound method and the pathology while taking notes, and the next day she performed the ultrasound examination herself.
Dr. Anuujin is in her first year in the cardiology department, and it seems that she has never performed an echocardiogram at the Center for the Mother and Child Health of Mongolia. When Dr. Anuujin performed an echo, it still took a long time, but since Dr. Matsuo selected the patient and the condition before having her do it, there was no problem. For Dr. Anuujin, this local health checkup seems to have been an activity that placed a great emphasis on education.
Problems faced by local hospitals in Mongolia
In addition, advance information said that there was one doctor at the prefectural hospital who could perform echocardiograms, but he was not present when we went there. Apparently, the doctor belonged to a department that treats adults. The pediatrician (as is the case at all local hospitals in Mongolia) said that he had no experience in performing echocardiograms.
There were quite a few post-surgery patients among the children who had gathered in response to a call made in advance, but the pediatrician at the local hospital didn't seem to know what to watch out for or where to examine patients after surgery.
In the case of Mongolia, a major problem seems to be that once you are assigned to a local hospital, you cannot learn anything new from there. In this regard, one of our challenges in the future is how we can support doctors at local hospitals as we carry out local medical examination activities in Mongolia.
Explore in Erdene Zuu
After completing the activities on the second day, we had lunch with the local doctors we worked with at a restaurant in the hospital (it was provided free of charge by the hospital). Afterwards, we gave the director who came to greet us 20 nurse uniforms as a souvenir from Japan (these were new items donated by an anonymous Japanese hospital) before we left the hospital.
On the way back, we stopped at the ancient temple ruins of Erdene Zuu monastery, which is part of the World Heritage Site "Cultural World Heritage Site of the Orkhon Valley", and took a break for about an hour and a half to see it and learn about Mongolia's world heritage sites and history and able to deepen our insight. We left Erdene Zuu at 6pm, had dinner at a drive-in en route, and returned to Ulaanbaatar just after 12am.
The next day, we joined the catheterization team that had already started working in Ulaanbaatar and worked for one day at the National Center for Maternal and Child Health of Mongolia, before heading back to Japan the next day. For more information about the activities in Ulaanbaatar on the final day, please read "Catheter treatment support activities in May 2023."