Reports from students participating in volunteer activities
7/1/2023
Two medical students participated in the activities in Mongolia in May 2023. They each participated in a local medical examination team and a catheter treatment support team in the capital. We have received reports from both of them, so we would like to introduce them to you.
May 2023 Arkhangai Province (Tsetserleg City) Activity Report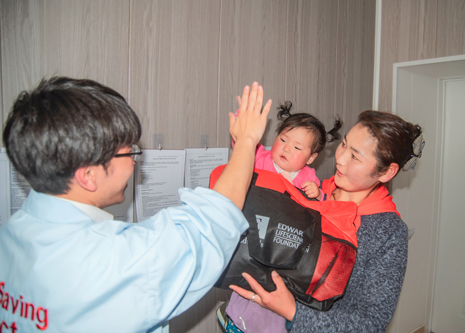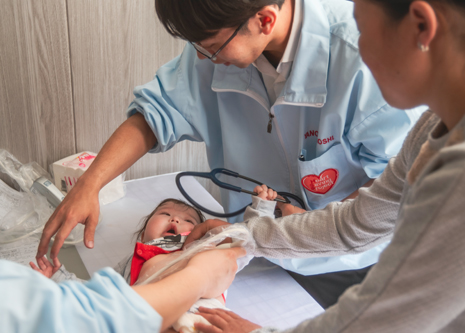 This time's local city checkup in Mongolia was conducted in Arkhangai Province, approximately 510 km west of the capital Ulaanbaatar. The examination took place at Arkhangai Provincial Central Hospital in Tsetserleg, the capital of the province.

The medical examination team consisted of two pediatric cardiologists who traveled from Japan: Dr. Yuzo Moritani from Ehime Children's Hospital, Dr. Kumiyo Matsuo from the Department of Pediatric Cardiology, Osaka Maternal and Child Medical Center, and a nurse from the Sapporo Medical University Hospital Advanced Critical Care Center, Tomoko Taniguchi. In addition to 4 people: , 6th year student at Shimane University School of Medicine, 1 pediatric cardiologist at National Maternal and Child Health Center of Mongolia, and local NPO Heart Saving Project Mongolia (HSP Mongolia)'s  two staff members have joined us, bringing the total to seven people.
The traveling members departed from Narita Airport at noon on May 3rd and arrived in Ulaanbaatar at 7pm local time. We left the hotel at 4:30 in the morning on May 4th and arrived in Tsetserleg city after about 6-7 hours. After arriving at Arkhangai Provincial Central Hospital, we were met by Mr. Amartovshin, head of the Social Policy Department of Arkhangai Provincial Government, and then greeted the director of Arkhangai Provincial Central Hospital. The medical examination started around 1:00 pm, and during the medical examination, NPO Heart Saving Project was interviewed by a local television station.
We finished the medical examination at 6pm and had dinner at 7:30pm. Afterwards, we moved to the Martin Hotel, and the medical examination on May 4th was completed. On May 5th, we left the hotel at 8:00am, had a medical checkup from 8:30am to 2:00pm, then went sightseeing in Tsetserleg, and left for Ulaanbaatar around 6:00pm. We had dinner on the way and arrived in Ulaanbaatar city around 24:00.
The temperature in Mongolia in May was still low, and I felt that the climate was similar to February in Japan. In addition, it was raining from the time we arrived in Ulaanbaatar, which is rare in Mongolia, and we were also hit by snow on the drive to Arkhangai province. The road was in good condition for about an hour after leaving Ulaanbaatar, but after that we had to dodge large potholes. Since I left my hotel in Ulaanbaatar at 4:30 in the morning, I was quite exhausted even on the way there, so I took good care of my health and went through a medical check-up so as not to lose my condition.
In this Arkhangai province medical examination, a total of 103 people were examined, including 70 people on May 4th and 33 cases on May 5th. Including cases after treatment, 19 cases of VSD (ventricular septal defect), 5 cases of ASD (atrial septal defect), 7 cases of PDA (patent ductus arteriosus), 2 cases of TOF (tetralogy of Fallot) , 5 cases of PFO (patent foramen ovale) were examined (including duplicate cases). We have decided to follow up the progress of 13 patients with Heart Saving Project, including 4 with VSD, 3 with ASD, 2 with TOF, 1 with Wenckebach type atrioventricular block, and 1 with PH (pulmonary hypertension).
After the screening, we held a joint conference with local doctors to discuss prognosis, treatment plans, and follow-up for the patients who had undergone the screening.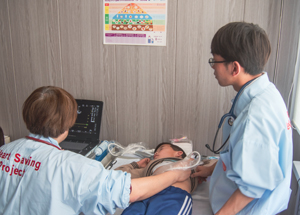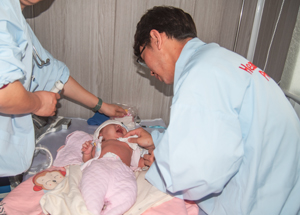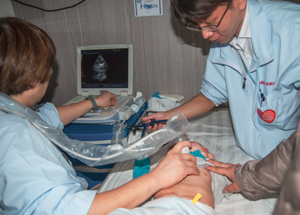 Participating in the Mongolian catheter treatment support team
Over the course of five days, which started off with a bang, I had a spectacular experience that far exceeded my imagination. In this review, I would like to write about two things that were particularly impressive to me during this activity.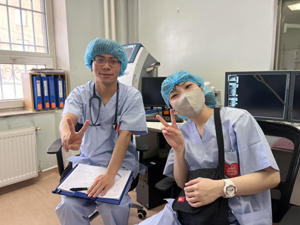 Firstly, this was my first time witnessing overseas medical care, and I learned the limits of medical care that can be provided locally. I thought I understood in my head that the medical care that is provided in Japan as if it were taken for granted is not taken for granted in other parts of the world. However, there were many times when I felt a pain in my chest when I faced the reality. In addition, I learned a lot from watching the doctors share their opinions in order to make the most of limited medical resources and provide the best treatment for children under these current circumstances.The entire process, from the anxiety before the treatment to the relief shown by the patient's family after the treatment, was thought-provoking. In particular, I vividly remember how my heart was filled when I saw the families of the patients relieved after the treatment. When I work as a medical professional in the future, I would like to remember the feelings of the families and the enthusiasm of the doctors that I felt through this activity, and encourage myself to give back as much as possible to patients.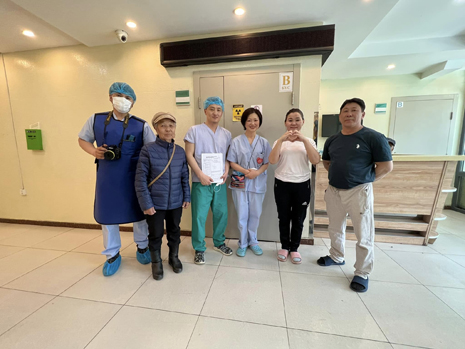 Secondly, this trip allowed me to experience the language barrier firsthand. I felt deeply that if you can not understand the language, you will not be able to take advantage of the learning opportunities and will feel frustrated. On the other hand, I learned a lot from the attitude of the Mongolian doctors who worked hard to absorb knowledge and techniques from the Japanese doctors despite the language gap. (This is off-topic, but during a short break, I was able to talk with the local doctor while having Altantuya translate for me. I had a lot of fun and it remains in my memory.)
Through this Heart Saving Project activity, I was able to not only learn medical knowledge, but also communicate with various people such as related people, doctors in Mongolia, patients, and doctors in Japan. I had a very meaningful and enjoyable time. Being able to have this experience during my student days is a lifelong asset for me. I will use this experience as inspiration to study hard in Japan so that I can support as many people as possible in the future. Thank you very much to everyone who was involved in this activity.
lastly, when I smiled at the children waiting in the waiting room, I saw their cute smiles in return, and it was so memorable that I will never forget it. I sincerely hope that the children of Mongolia will continue to spend their time smiling.